How to buy medicines safely online
19 November 2015, Updated 15 September 2017
Do you want to buy medicines online? We recommend that you buy medicines from one of the Danish online pharmacies or the online shop of other authorised Danish retailers. You can also consult your doctor before you buy medicines online.
List of pharmacies selling medicines online
List of other authorised Danish retailers selling medicines online
If you want to buy medicines from other countries, you should be aware that private individuals are only allowed to receive medicines sent from EU and EEA countries (Norway, Iceland and Liechtenstein) – this also applies to medicines that you buy online.
Ask us if you are in doubt whether a product is a medicinal product or whether you are allowed to import the product into Denmark.
Buying medicines from online shops
Always check that this logo is displayed on the website before you buy medicines. If the logo is not displayed, the website is either selling medicines illegally or the seller is situated outside the EU. If you buy medicine outside the EU, it will be seized by the customs authorities.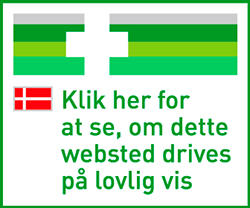 English logo text: Click to verify if this website is operating legally
All European pharmacies and companies authorised to sell medicines online must display the common EU/EEA logo on their websites.
Moreover, when you click the logo on the seller's website, you should be redirected to the responsible regulatory authority's website where you can find a list of authorised online distributors of medicines. If the seller is Danish, you will be redirected to the Danish Medicines Agency's website.
An online shop in Danish with a domain name with the extension .dk is not necessarily a Danish online shop. Many foreign online shops sell medicines, and it may be difficult to verify whether the shop is serious and trustworthy.
Below you can find some good advice on what you should be aware of before you buy medicines online:
Use your common sense!
First of all – be suspicious of offers that seem too good to be true. They probably are!
How is the language of the online shop?
Foreign and untrustworthy online shops often use machine translated texts on their websites. The text quality is often poor with bad wording and many grammatical errors.
Contact details – who runs the online shop?
It is important to check the online seller's contact details, eg the physical address, phone number and email address. Often, untrustworthy online shops do not display any contact details and it is only possible to contact the shop via a form on the website or, at best, at a Gmail-address or the like.
Prices, terms of sale and delivery and right of cancellation
Check the information on prices, terms of sale and delivery and right of cancellation.
Personal data
Check the information about the online shop's privacy policy.
Payment
Check the payment options and make sure that you can pay by credit card and that the payment is made via a secure connection. You should never pay in advance by bank transfer or cheque.
From where is the medicine sent?
Even though an online shop looks as if it is based in England, it does not necessarily mean that the medicine will be sent from England. Untrustworthy online shops often send medicines from countries outside the EU, eg India or China. If you are in doubt, you should ask the online shop from which country the medicine will be sent.
A reputable online shop?
You could do an internet search to see if the site you are investigating is mentioned favourably on sites you already trust.
Did you get answers to your questions?
Please tell us how we can improve our website? Please note that we do not answer questions asked via this feature.