Clinical trials of the future place the patient at the centre
In many cases, participating in a clinical trial is a considerable burden for people in general. Clinical trials often involve many hospital appointments with a lot of travel and waiting time. The people who are affected the most live far away from the hospital departments concerned, with resulting unequal access to clinical research in Denmark.
Decentralisation of clinical trials offers new possibilities of placing the individual (the research participant) at the centre. For example, participants could have the medicine brought to them instead of them having to pick it up at the hospital department, or study-related procedures, such as blood samples, could take place at their home or nearby. It means that it becomes much easier for people in general to access the leading research departments from anywhere in Denmark regardless of their mobility and the physical distance.
In a traditional clinical trial, participants travel to the hospital department for examinations.
In a decentralised trial, participants are not required to attend visits at the hospital department to the same degree. In a decentralised trial, consultations with the responsible doctor could take place via a video call, and blood samples could be obtained at the participant's own home.
Clinical trials of medicines have made rapid advances when it comes to digitalisation and decentralisation. By this is meant the use of digital tools (digital consent, electronic consultations, electronic data collection systems, wearables and other medical devices, etc.), which means that the same degree of physical attendance at a hospital department, as we know it from a traditional clinical trial, is not required in a decentralised clinical trial.
This development helps ensure equality in the health service because patients regardless of mobility and physical distance to the hospitals can participate in clinical trials. This will also ensure a wider representation of trial subjects as well as facilitate the recruitment and retention of patients in clinical trials.
How we work with the decentralisation of clinical trials
The Danish Medicines Agency wishes to support this development and has therefore started a project with the aim of ensuring a contemporary and robust regulatory framework for digitalisation and decentralisation of clinical trials so that Denmark can maintain its strong position in clinical research for the benefit of patients.
Right now, we are investigating how to make the many possible decentralisation elements available in safe settings in a manner to safeguard safety, data quality and the interests of the general public. While our efforts have a national scope, we will prioritise using our international collaboration agreements and participating in European initiatives.
To ensure strong interactions between authorities, patients, researchers and the industry, we and Trial Nation have set up a forum for dialogue.
If you have input or questions of any kind, please do not hesitate to contact project manager Frederik Grell Nørgaard. Please also note that we encourage applicants to seek regulatory scientific advice before submitting an application for a decentralised clinical trial. It must appear clearly from the application for scientific advice that it concerns advice regarding a decentralised clinical trial.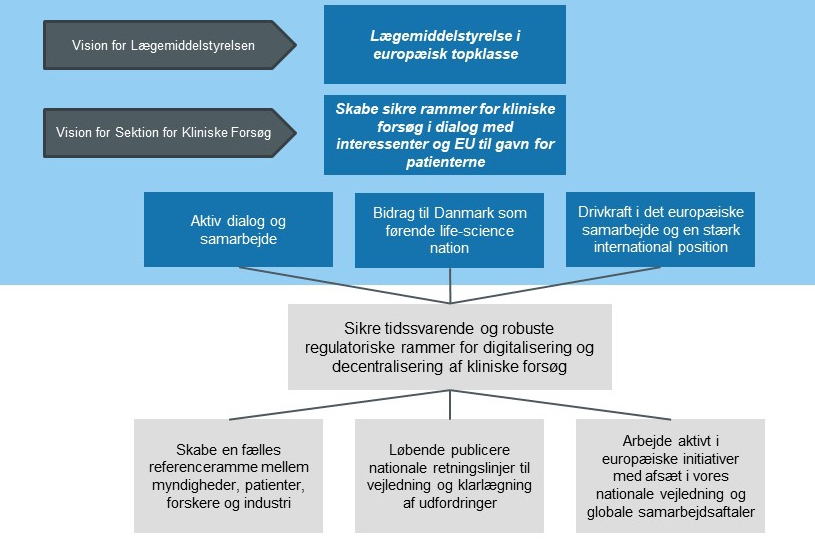 (in Danish)
The vision of the Clinical Trials unit is to establish a safe framework for clinical trials through discussions with our stakeholders and the EU for the benefit of patients. The vision of this specific project on decentralised clinical trials is to ensure a contemporary and robust regulatory framework for digitalisation and decentralisation of clinical trials that ties in with the following of the Agency's vision points: 'active dialogue and collaboration', 'driver of European collaboration and a strong international position' (read more in the Danish Medicines Agency's strategy). The deliveries in the project are: 1) the creation of a common reference frame between authorities, patients, researchers and the industry; 2) ongoing publication of national guidelines and identification of challenges; and 3) active involvement in European initiatives based on our national guidelines and global collaboration agreements.