Buying and selling medicines online
Every year, Danes spend billions on medicines. More and more medicines are purchased over the internet.
Logo provides safety to consumers
---
Logo provides safety to consumers
Websites in EU/EEA countries legally selling medicines to the public over the internet must display a new logo as from 1 July 2015. This applies to pharmacies and authorised retailers.
The purpose of the logo is to help consumers to identify websites that can legally sell medicines. The logo will contribute to prevent that falsified medicines enter the legal supply chain.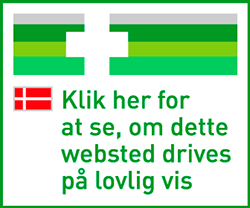 English logo text: Click to verify if this website is operating legally
This text forms part of the logo 'Click to verify if this website is operating legally'. The common EU logo is basically the same throughout all EU/EEA countries – only the national flag and the language vary from country to country.
All websites selling medicines legally must display the logo. Each website must display the logo on every page of the website offering medicines for sale.
All pharmacies and retailers authorised to sell medicines on the internet appear from this list:
It is easy to verify whether you can trust a website:
Look for the logo when you visit a website that sells medicines online.
When you click the logo, check that you are redirected to one of our lists of pharmacies or authorised retailers.
Check the list to verify that the distributor and website are registered. A pharmacy/retailer is registered on the list, because they have informed the Danish Medicines Agency that they sell medicines online. Pharmacies have a licence and retailers have an authorisation issued by the Danish Medicines Agency, which entitle them to sell medicine to the public.
If the pharmacy/retailer is registered on the list, it is safe to complete your purchase of medicine on the website. Do not buy medicines from websites that do not display the new logo.
More information
On EMA's website, you can find links to lists of pharmacies and retailers that are authorised to sell medicine on the internet in the respective EU member states. You can also find descriptions of the logo: EMA Buying medicines online
European Commission – EU logo for online sale of medicines
Rules about pharmacies' and authorised retailers' online sale of medicines
According to the Danish rules on online sale of medicines, medicines may only be marketed or dispensed in Denmark when a marketing authorisation has been granted.
If a medicinal product is to be marketed to users in other EU/EEA countries, a marketing authorisation applicable in the country of destination is required.
A medicinal product is not necessarily placed in the same dispensing group in the various EU/EEA countries. Some countries may, unlike other countries, have placed a medicinal product in a dispensing group, which implies that only specialists in a specific area are authorised to prescribe the medicine.
Overall, pharmacies selling medicines online must comply with all the rules applicable to pharmacies' sale of medicines to consumers. Pharmacies are obliged to offer substitution of medicines and inform consumers of less expensive alternatives, also in connection with online sale.
Distributors authorised to sell medicines by retail in accordance with section 39(1) of the Danish Medicines Act and who sell such medicines online are also obliged to comply with all the rules applicable to the distribution of medicines.
Executive order no. 675 of 20 May 2015 on pharmacies' and retailers' online sale and on distribution of medicinal products lays down additional rules.
A pharmacy must provide information about medicines and offer oral and written advice on the website from which it sells medicines online. This means that consumers must be able to contact the pharmacy by telephone and in writing via the website. Consumers must be able to contact the pharmacy during the normal opening hours, as a minimum.
The website must be accessible for disabled consumers, primarily consumers with a visual impairment or other reading difficulties. The website must also inform consumers, who have problems reading or understanding the text, that they can contact the pharmacy by telephone or physically during the pharmacy's opening hours if they need more information.
In Denmark, a pharmacy's website must not make it possible for consumers to have an online consultation with a doctor or dentist to obtain a prescription and order medicines on the website.
---
Good advice
There are a number of conditions to be aware of when shopping online, especially when it comes to medicines.
We have gathered a handful of tips that makes it a little easier to comprehend online shopping.
Choose your online retailer carefully
Many shops sell medicines on the internet. It is important to find a serious and reliable online retailer, but it is not necessarily easy. Here are a few questions, you can ask yourself when assessing an online retailer:
Is it apparent who is behind the website and the information, products and services offered?
If the website contains advertisements, are they then separated from the information?
Has the website been updated recently?
Moreover, there are some signs that should make you suspicious:
When promises of health and recovery are too good to be true
When there are long lists of various diseases that a single medicine can cure
When the medicine can only be purchased at that specific retailer or only for a limited period
Insist on information about the medicine
As a customer, you are entitled to precise information on the medicine you are considering to buy. If you do not receive adequate information about the medicine, you should find a more serious retailer.
Adequate and factual information will include details about, e.g.:
Name of the medicine
Active substances
Therapeutic indications (what the medicine is used for)
When the medicine must not be used (e.g. during pregnancy or concurrently with other medicines)
Dosage
Any possible side effects
The manufacturer's name and address
Only buy authorised medicines
In Denmark and other European countries, medicines must be authorised by the health authorities before it is permitted to sell them to consumers. If you have doubts, ask the retailer whether the medicine is authorised, and if yes: In which countries?
If the retailer does not know whether the medicine is authorised or refuses to answer, something is very wrong.
What about the package leaflet?
When you buy medicines in Denmark, the package and package leaflet are in Danish. The package leaflet includes important information about the medicine, e.g. effect and side effects, warnings, storage instructions, specific precautions that you should pay attention to etc.
When you buy a medicine outside Denmark, you should ensure that you receive a package leaflet in a familiar language.
Beware of name confusion
Medicines often have different names in different countries. Therefore, you cannot be sure that the packages contain the same even though the names may sound very alike.
If you are unsure about a specific medicine, then ask an acquaintance who knows about medicines, ask the pharmacy, or try to compare the active substances with a medicine you know.
Avoid counterfeit medicines
Anything can be counterfeited, including medicines. If you buy medicines online, you will often not know who the retailer is. It is also difficult to determine whether the retailer is subject to any type of regulatory control in the country where the retailer is established.
This means that there is a risk that your purchase is not what you think it is. In best case, the medicine is ineffective. In worst case, it is outright damaging.
Will you receive compensation?
Medicines are supposed to prevent, relieve or cure diseases. Yet sometimes, it occurs that a medicine does harm. Money cannot change this, but compensation for personal damage may ease the situation a little.
When you buy a medicine from a Danish pharmacy or other authorised retailer in Denmark, you are automatically covered by an insurance for pharmaceutical injuries. If you have bought a medicine outside Denmark, you cannot be sure to receive compensation. Even the 'money back guaranty' can easily be broken by the online retailer.
Are you purchasing illegally?
You must also be aware that there are rules restricting the possibility for private individuals to receive medicines dispatched from foreign countries, i.e. including medicines purchased online.
It is illegal to receive medicines purchased or dispatched from a country outside the EU/EEA, see map. Moreover, it is only permitted to import medicines that are purchased legally and for personal use.
It is also illegal to receive medicines containing euphoriant substances or doping agents
If you are unsure about a specific medicine, please ask the Danish Medicines Agency
Did you get answers to your questions?
Please tell us how we can improve our website? Please note that we do not answer questions asked via this feature.