Contact us
Updated 27 November 2018
Danish Medicines Agency
Axel Heides Gade 1
2300 Copenhagen S
dkma@dkma.dk
Tel. +45 44 88 95 95
Fax: +45 44 88 95 99
The Danish Medicines Agency can receive emails with a maximum size of 25MB.
Press contact
Head of Media Relations
Solveig Røigaard-Petersen
Tel. +45 25 26 52 89
sorp@dkma.dk
Opening hours and telephone hours
Monday to Friday, from 8.30am to 3.30pm
The best times to call us:

Product defects and withdrawal of medicines (Rapid Alert)
The Danish Medicines Agency must be informed if a company considers a product defect may lead to the withdrawal of a medicinal product from the market.
Information about the reporting of product defects that may lead to a withdrawal
Licensing of medicines
Mailboxes within the area of medicines licensing
Reimbursement of medicines
Contact – including personal data
If you have any questions about an application for reimbursement (containing personal data), please call us on:
+45 44 88 96 96 or use this encrypted form (in Danish)
You need your NemID to use the form. We will send our reply to the e-Boks of the person, whom the question concerns.
If you call us on behalf of another person, we need to obtain consent or a power of attorney from the person concerned. This is not a requirement if you call us about reimbursement for a child you have custody of.
Contact – without personal data
If you have any questions of a general nature (without personal data), please write to us at: medicintilskud@dkma.dk
Medicine Prices
A special service hotline takes calls for Medicine Prices every other Monday between 3pm and 4.30pm in the weeks when pharmaceutical companies must notify changes in prices and packages. In 2016 and until 2020, the hotline is open on Mondays in odd weeks, except on public holidays.
Tel.: +45 44 88 96 94
Entrances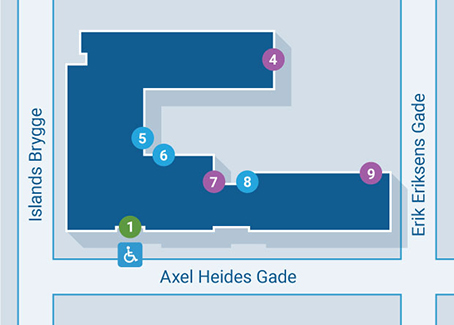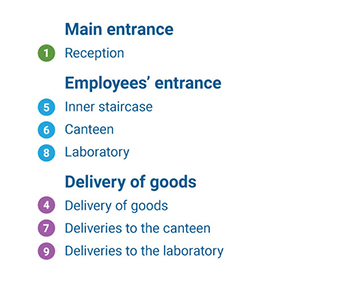 Parking
You have to pay a parking fee of DKK 10 per hour to park on the parking deck or in the underground car park (access via Erik Eriksens Gade).
Payment can only be made via the mobile app Mobile parking that you can download from App Store or Google Play. You can also find the app by scanning this QR code:

You cannot park in parking spaces where signs indicate that a parking permit is required.
There is free parking for up to 3 hours in the streets around the Danish Medicines Agency. The green lines (labelled 'fri parkering') on the map below indicate where you can park free of charge for up 3 hours.
The information about parking on this website is indicative. The signs in the area specify all applicable parking restrictions.
Disabled parking bays
There is a disabled parking bay at the Main entrance – the reception at Axel Heides Gade 1. The doors to the reception are open during opening hours.
Wheelchair users – handicap lift
At the Main entrance – Axel Heides Gade 1 – there is a handicap lift from the entrance door to the reception desk.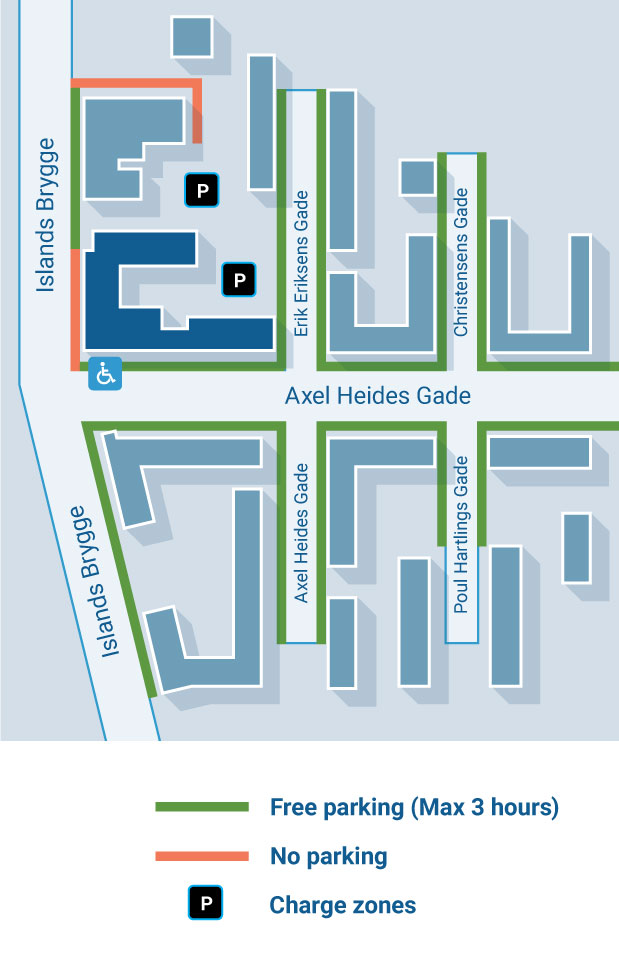 Delivery of goods
Goods can be delivered to the Danish Medicines Agency, Monday to Friday, from 8.30am to 3pm.
If you are to deliver goods to the Danish Medicines Agency, drive up the slope from the street Erik Eriksens Gade.
There are different entrances to use depending on the type of goods being delivered:
Entrance 4 – Delivery of goods in general
Entrance 7 – Deliveries to the canteen
Entrance 9 – Deliveries to the laboratory
Letters and parcels
Letters and parcels can be handed in at the mail services unit (Entrance 4) from Monday to Friday, from 8.30am to 3pm.
Letters can also be left in the letterbox outside the Main entrance at any time. The letterbox is emptied Monday to Friday at 8.30am.
We do not receive urgent deliveries by courier outside our opening hours, unless personal receipt and delivery has been agreed directly with the recipient.
Did you get answers to your questions?
Please tell us how we can improve our website? Please note that we do not answer questions asked via this feature.