Fees payable for medicinal products and companies
Updated 11 February 2019
The fees are annually adjusted according to the price index (2019: 0,9%)
Please see the fees applicable from 1 January 2019 to 31 December 2019
The fees payable for medicinal products and companies are laid down in the Danish executive order no. 1784 of 27 December 2018 on fees payable for medicinal products etc.
---
Please see the fees that were applicable from 1 January 2018 to 31 December 2018
Please see the fees that were applicable from 1 July 2017 to 31 december 2017
Please see the fees that were applicable from 1 January 2017 to 30 June 2017
Increased fee applicable to the manufacture of medicines outside EU/EEA
When a medicinal product is manufactured at a company in a third country, i.e. outside the EU/EEA, an increased application fee and an increased annual fee are charged.
In 2018, the increased fee/annual fee is DKK 824. However, the fee is payable for only one strength per pharmaceutical form.
The increased annual fee has item number 3048, and the increased fee has item number 3049.
The increased application fee is charged in conjunction with the application, whereas the increased annual fee is charged at the end of each year.
Guideline
Guideline for the collection of fees for applications for marketing authorisations, variations etc.
The Danish Medicines Agency sends out invoices payable within one month.
Invoices in connection with variation applications (national and MRP procedures)
Please be aware that the Danish Medicines Agency issues invoices to the address provided under "Billing address" in the application form (see below).
We ask you not to effect payment at the time you submit the application; we will send an invoice after we have received the application.
Tick "Proof of payment" at the top, and select "No".
This will display the field where the "Billing address" is to be entered.
If the field is left empty, the Danish Medicines Agency will send the invoice to the company listed as marketing authorisation holder in Denmark in the application form.
The field "Purchase order (PO) number" must be filled out if the number is to appear on the invoice.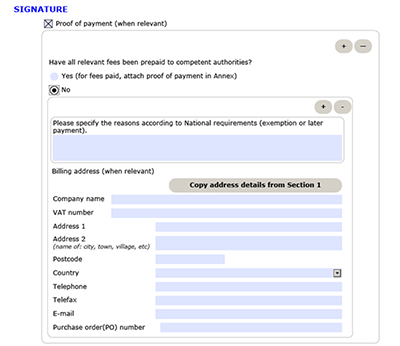 Did you get answers to your questions?
Please tell us how we can improve our website? Please note that we do not answer questions asked via this feature.