Promising prospects for cooperation with Mexico
Thursday, the Danish Medicines Agency's new Director General Thomas Senderovitz signed a cooperation agreement between the Mexican drug regulatory authority and the Danish Medicines Agency.
The signing ceremony took place in the Queen's Reference Library in the Prime Minister's Office and was attended by Prime Minister Lars Løkke Rasmussen, Minister for Health Sophie Løhde and the Mexican President Enrique Pena Nieto, who was on an official state visit to Denmark.
The agreement is a progression of the Danish government's ambitions to strengthen the international profile of the Danish Medicines Agency.
The primary objective of the agreement is knowledge sharing. In the agreement, both countries indicate that they will enhance cooperation by sharing knowledge about medicines, biological medicinal products and medical devices etc. Moreover, the agreement includes a declaration of intent to increase access to safe and effective medicines by improving quality and safety by way of control with the help of leading experts from both countries.
"The primary objective of the agreement is to promote patient safety, for example by sharing knowledge. At the same time, the agreement may pave the way for stronger industrial and commercial relations between Denmark and Mexico," says Thomas Senderovitz.
The Mexican co-signatory was Julio Sánchez y Tépoz, Federal Commissioner for Protection against Health Risks.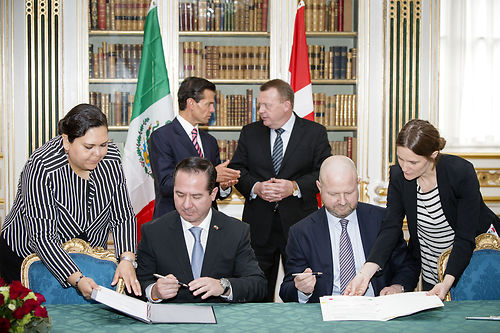 Photo: Jens Astrup, Scanpix
Did you get answers to your questions?
Please tell us how we can improve our website? Please note that we do not answer questions asked via this feature.