Keep up with the latest updates on our website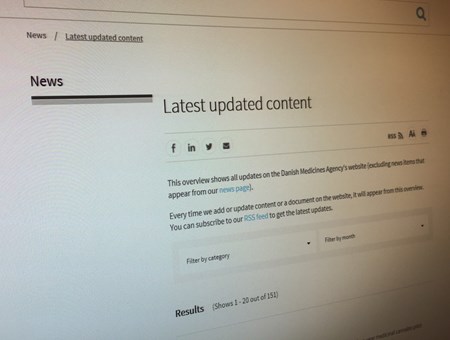 The new overview shows all updates on our website
Now you can keep up with all updates on our website and not only our news items.
Every time we add or update content or a document on the website, it will appear from this new overview of latest updated content (excluding news items that appear from our news page).
Customise the overview
You can filter the overview by category and month, and the overview is structured in chronological order with the latest update first. You can also subscribe to our RSS feed to get the latest updates. And there is a shortcut to the overview on our home page.

First of a large number of new initiatives
This overview is the first of a large number of new initiatives on our website that will meet the needs identified by a major user survey of the website. At the same time, the website will be modernised and strengthened on an ongoing basis to contribute to our vision of openness, high quality and a Danish Medicines Agency among Europe's best in class.
Did you get answers to your questions?
Please tell us how we can improve our website? Please note that we do not answer questions asked via this feature.