Drug agency from China visits Denmark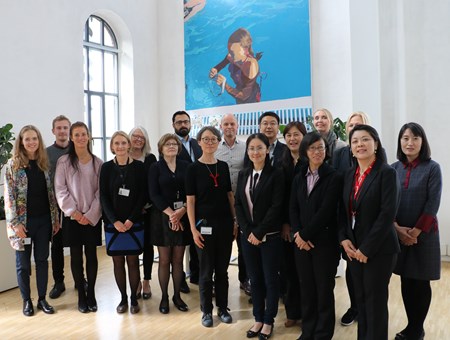 A delegation from the Centre for Drug Evaluation under the China National Medical Products Administration visited the Danish Medicines Agency this week to discuss clinical trials and drug monitoring, among other things. The meeting at the Danish Medicines Agency is part of a Danish-Chinese collaboration under the auspices of the China-Denmark Food and Drug Regulatory Cooperation Centre, which was established with the signing of a collaboration agreement in May of last year, and which aims to strengthen regulatory efforts in the two countries.
The Danish Medicines Agency received a visit this week from China's Centre for Drug Evaluation.
The Chinese delegation concluded their visit to the Danish Medicines Agency yesterday after three days in which the parties discussed clinical trials, drug monitoring and the possibility of staff exchanges between the Danish Medicines Agency and its Chinese counterpart with a view to skills development within the different pharmaceutical areas. The delegation has been particularly interested in learning about the Danish Medicines Agency's risk-based approach to case administration.
International collaboration benefits Denmark
The Danish-Chinese inter-agency collaboration in the pharmaceutical area was initiated with a view to strengthening regulatory efforts in both countries. Through the Danish Medicines Agency, China's Centre for Drug Evaluation gains better access to knowledge about drug monitoring in a European context, while from a Danish perspective, contact with the Chinese representatives is part of the Agency's focus on international collaboration.
"It is a fine tribute to the Danish regulatory efforts that China has chosen to gather knowledge about European drug monitoring through the Danish Medicines Agency. And it also gives the Danish Medicines Agency the opportunity to gain valuable insights into the Chinese regulatory efforts and to establish unique partnerships, for example in relation to the control of radiopharmaceuticals. When agencies get to know one another, we all benefit as citizens. Furthermore, our collaboration with China also contributes to the Danish government's ambitions for a stronger international positioning of the agency and a national life science strategy that focuses on both health and economic growth," says Thomas Senderovitz, Director General of the Danish Medicines Agency.