Beware of falsified medicines
Today, 8 June 2016, is the World Anti-Counterfeiting Day. The Danish Medicines Agency participates in this campaign to draw attention to the problem of illegal sale of falsified medicines.
Cosmetics, medicines, clothing and gadgets at spot price. There are many temptations ahead for holidaymakers. But if you fill your suitcase with counterfeit good, you may put your health at risk, and you also risk to support criminal organisations, 12 Danish authorities warn, including the Danish Medicines Agency, to mark the World Anti-Counterfeiting Day on 8 June.
"If you are travelling and need medicine, make sure that you only buy medicine from distributors that are authorised to sell medicines in the country in question. It may be difficult to identify authorised distributors abroad, so we recommend that you contact your travel insurance company to get advice on medical care and medicine purchases abroad," says Karen Juul Jensen from the Danish Medicines Agency.
The problem of counterfeit goods is massive, and the market is growing steadily. Today, everything can be counterfeited, a recent OECD and EUIPO report warns. Previously, luxury items like watches and bags were typically counterfeited, but now everything from cosmetics, shoes, perfume, medicine, alcohol and food to machines and spare parts can be counterfeited. Trade in counterfeit goods is often more lucrative for criminals than trade in hard drugs, according to a Europol report.
Illegal sale online
As regards medicines, the majority of the trade in falsified medicines take place online.
"Many illegal websites look legitimate. And when you receive the product, it may also look professional. However, it may not be safe for you to take the medicine. Major risks are associated with taking medicines manufactured under uncontrolled conditions, for example, each tablet may not contain the same amount of the active substance", says Karen Juul Jensen, who adds that medicines manufactured in cement mixers were found in Asia.
"The Danish Medicines Agency strongly recommends that you only buy medicines from pharmacies or authorised online distributors," says Karen Juul Jensen.
Checklist to avoid buying falsified medicines:
Is the sales outlet unusual?

Is the price suspiciously low?

Are the packaging, text and photos of a poor quality?

If you buy medicines online.
Check that the distributor is on the drug regulatory authorities' list of authorised distributors.
All EU/EEA countries participate in this collaboration.
Read more
Read more about the Danish campaign to mark the World Anti-Counterfeiting Day at www.stoppiratkopiering.dk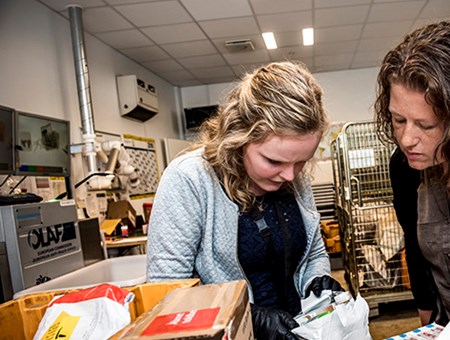 Download in high resolution (JPG format)
Photographer: Jesper Ludvigsen
Stine Gregers Hørsøe, lawyer, and Sine Thagaard Johansen, pharmacist student and assistant at the Danish Medicines Agency, regularly inspect packages containing medicines at the Danish tax authorities in Copenhagen airport. Illegally imported medicines are stopped, and the citizen who imported the medicine will be contacted.
Did you get answers to your questions?
Please tell us how we can improve our website? Please note that we do not answer questions asked via this feature.