Authorised retailers selling human medicines online
Any website in the EU/EEA authorised to sell medicines online to the general public must display a certain logo. This applies to both pharmacies and authorised retailers. Pharmacies and retailers selling human medicines online must display the green logo below on their websites.
There are two logos; a green logo and a blue logo. The green logo shown below is used for websites selling human medicines. The blue logo shown below is used for websites selling veterinary medicines. Read more about the blue logo.
The purpose of the logo is to indicate to consumers that the website they are visiting is a legally-operating online medicine retailer. The logo is to prevent falsified medicines from entering the legal supply chain.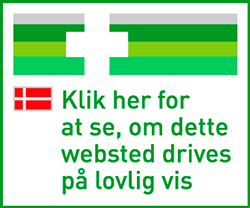 Above: The green online logo to indicate if websites may legally sell human medicines
It is easy to check if you can trust a website:
When buying from a website that sells human medicines online, look for the green logo.
When you click on the logo, check if it takes you to a page that shows you the Danish Medicines Agency's list of legally operating pharmacies or retailers.
Check that the online pharmacy or retailer you have visited is listed there with a website address. Pharmacies/retailers on these lists have duly notified the Danish Medicines Agency that they sell medicines online. Pharmacies hold a licence and retailers hold an authorisation issued by the Danish Medicines Agency, giving them a right to sell medicines to consumers.
If the pharmacy/retailer is registered on the relevant list, you can continue with your purchase from that website. Don't buy human medicines from websites without the green logo.
The following shops are authorised to sell human medicines and have informed us that they sell medicines online:
Virksomhedsnavn
Adresselinje 1
Hjemmeside
7-Eleven 18
Falkoner Alle 11, 2000, Frederiksberg
http://www.7-eleven.dk
7-Eleven 2
Nørrebrogade 155, 2200, København N
https://www.7-Eleven.dk
7-Eleven 39
Vestergade 89, 5000, Odense C
https://www.7-eleven.dk
7-Eleven 4
Amagerbrogade 43, 2300, København S
http://www.7-eleven.dk
7-Eleven - 498
Østerbro 75, 9000, Aalborg
https://www.7-eleven.dk
7-Eleven butik 34
Nørreport 28, st., 8000, Århus C
https://www.7-eleven.dk
7-Eleven butik 8
Rådhuspladsen 47, 1550, København V
https://7eleven.menukitt.dk/#order
Abena A/S
Egelund 10, 6200, Aabenraa
https://abenaonline.dk
Agger Købmandshandel
Vesterhavsvej 14, Agger, 7770, Vestervig
https://agger.minkobmand.dk/
Air Liquide Danmark A/S
Høje Taastrupvej 42, 2630, Taastrup
https://mygas.airliquide.dk
Albert Larsen ApS
Teglgårdsvej 36, 5500, Middelfart
https://mundfrisk.dk
Bilka
Niels Bohrs Alle 150, 5230, Odense M
https://httpsbilkatogo.dk
Bilka
Skovvangen 42, 6000, Kolding
https://bilkatogo.dk
Bilka Esbjerg
Stormgade 157, 6715, Esbjerg N
https://bilkatogo.dk
Bilka Hillerød
Slotsarkaderne 26, 3400, Hillerød
https://bilkatogo.dk
Bilka Holstebro
Nyholmvej 20, 7500, Holstebro
https://bilkatogo.dk
Bilka Horsens
Høegh Guldbergsgade 10, 8700, Horsens
https://bilkatogo.dk
Bilka Hundige, Waves
Over Bølgen 1, 2670, Greve
https://bilkatogo.dk
Bilka Ishøj
Ishøj Lille Torv 1, 2635, Ishøj
https://www.bilkatogo.dk
Bilka Næstved
Næstved Storcenter 1, 4700, Næstved
https://bilkatogo.dk
Bilka One Stop
Arne Jacobsens Allé 24, 2300, København S
https://bilkatogo.dk
Bilka Randers
Merkurvej 55, 8960, Randers SØ
https://bilkatogo.dk
Bilka Skalborg
Hobrovej 450, 9200, Aalborg SV
https://bilkatogo.dk
Bilka Slagelse
Idagårdsvej 1, 4200, Slagelse
https://bilkatogo.dk
Bilka Sønderborg
Grundtvigs Alle 195, 6400, Sønderborg
https://bilkatogo.dk
Bilka Tilst
Agerøvej 7, 8381, Tilst
http://www.bilkatogo.dk
Bilka Vejle
Solkilde Alle 2, 7100, Vejle
https://bilkatogo.dk
Bilka Viborg
Holstebrovej 79, 8800, Viborg
https://bilkatogo.dk
Clear Eyes Denmark Aps
marielundvej 46 k, 2730, Herlev
https://cleareyes.dk
Dansk Detail ApS
Gammel Kongevej 92, 1850, Frederiksberg C
https://www.helsegrossisten.dk
Dukaan.dk (Green Alliance ApS)
Herlev Hovedgade 15 B, 2730, Herlev
https://shop.dukaan.dk
E-INVASION A/S
Artillerivej 86, 1, 2300, København S
https://testsmart.dk
babyplan.dk
billige-teste.dk
FIRTAL WEB - engros tilladelse
Møgelhøj 8, 8520, Lystrup
http://www.helsebixen.dk
www.made4men.dk
www.jala-helsekost.dk
www.billigvoks.dk
www.signatura.dk
www.well.dk
Hairfuel ApS
Byglandsgade 9, 2th, 2300, København S
http://www.Hairfuel.dk
Helsam Middelfart, Duft og Natur
Østergade 6, 5500, Middelfart
http://www.duft-natur.dk
Helsekosten v/Britta Brogaard
Søndergade 5, 9900, Frederikshavn
https://helsekosten.dk
Helsemin A/S
Vesterbrogade 6D, 1620, København V
https://helsemin.dk
Intervare A/S
Banemarksvej 58, 2605, Brøndby
https://intervare.dk
Jekas ApS
Vestergade 30, 9460, Brovst
https://jekashundogkat.dk
KONTORLAND A/S
Industrivænget 15, 3400, Hillerød
http://www.kontorland.dk
Krop og Medicin
Folmer Bendtsens Plads 4, st. th, 2200, København N
https://kropogmedicin.dk
Kvickly Allerød
M.D. Madsensvej 21, 3450, Allerød
https://osuma.dk
Kvickly Helsinge
Frederiksborgvej 20, 3200, Helsinge
https://osuma.dk
Kvickly Kalundborg
Elmegade 9-11, 4400, Kalundborg
https://Osuma.dk
Kvickly Ry
Siimtoften 2, 8680, Ry
https://osuma.dk
Let Køb V/Torben Andersen
Rosenvangsalle 50, 8260, Viby Jylland
https://letkoeb-aarhus.dk
Let Køb V/Torben Andersen
Sønderborggade 9, 8000, Århus C
https://letkoeb-aarhus.dk
Linde Gas A/S
Lautruphøj 2-6, 2750, Ballerup
https://linde-healthcare.dk
Lomax A/S
Elsenbakken 37, 3600, Frederikssund
https://lomax.dk
LUXPLUS ApS
Teglværksgade 37 1 tv, 2100, København Ø
http://www.luxplus.dk
med24.dk - Blue Medico ApS
Løkkenholmsvej 6, 9480, Løkken
https://med24.dk
Mediq Danmark A/S
Kornmarksvej 15-19, 2605, Brøndby
https://mediqdanmark.dk
Min Købmand Bramming
Engsvinget 3, 6740, Bramming
http://bramming.minkobmand.dk
MK Tandslet ApS
Mommarkvej 268, 6470, Sydals
https://www.tandslet.minkobmand.dk
Nærkøb
Forbindelsesvejen 115, 9400, Nørresundby
https://billigmedicin.dk
Natur -helse v Henrik Møller
Jomfrustien 2A, 6100, Haderslev
http://naturoghelse.dk
ND WEB MARKETING ApS
Nr. Hostrupvej 3B, 6230, Rødekro
http://kropsform.dk
Nemlig.com A/S
Banemarksvej 58, 2605, Brøndby
https://nemlig.com
Nomeco A/S
Borgmester Christiansens Gade 40, 1790, København V
https://webshop.nomeco.dk/personaleshop
Nomeco A/S
Herluf Trolles Vej 142, 5220, København V
https://webshop.nomeco.dk/personaleshop
Nomeco A/S
True Møllevej 2, 8381, København V
https://webshop.nomeco.dk/personaleshop
Nordickiosk ApS
Taastrup Hovedgade 89, st. 1., 2630, Taastrup
https://kinokiosken.dk
Nutriverse ApS
Njalsgade 76, 4, 2300, København S
http://www.nutriverse.dk
Onemed A/S
Kappa 3, Søften, 8382, Hinnerup
https://www.onemed.dk
Pharma Nord ApS
Tinglykke 4-6, 6500, Vojens
https://pharmanord.dk
Pito v/Pia Kjærbo Ibsen
Centervej 10 A, 8963, Auning
https://pito-shop.dk
Reamed A/S
Vilhelmsborgvej 16, 7700, Thisted
https://mitliv.dk
Salling Group
Rosbjergvej 33, Årslev, 8220, Brabrand
https://hjem.foetex.dk
SCANDEA ApS
Lyongade 21, 2300, København S
https://scandea.dk
Siffeline ApS
Egernvænget 50, 4733, Tappernøje
https://www.nikotinfrihed.dk
Snamix ApS
Peter Willemoes vej 129, 5220, Odense SØ
https://snamix.dk
Spar Aakirkeby (AAKIRKEBY SUPERMARKED A/S)
Torvet 1, Aakirkeby, 3720, Aakirkeby
http://aakirkeby.spar.dk
Spar - Glostrup v/Finn Jacobsen
Dalvangsvej 50-52, 2600, Glostrup
http://glostrup.spar.dk
Spicymedical
Sneslev Stationsvej 10, 4100, Ringsted
https://www.spicymedical.dk
Strandmøllen A/S
Industribuen 32, 5592, Klampenborg
https://shop.strandmollen.dk
Strandmøllen A/S
Strandvejen 895, 2930, Klampenborg
https://shop.strandmollen.dk
SuperBrugsen Bramdrupdam
Butikscenteret Bramdrupdam, 6000, Kolding
https://osuma.dk
SuperBrugsen Dronninglund
Slotsgade 25, 9330, Dronninglund
https://osuma.dk
SuperBrugsen Hørning
Nørre Alle 27, 8362, Hørning
https://osuma.dk
SuperBrugsen Kjellerup
Bryggertorv 9, 8620, Kjellerup
https://osuma.dk
Svejsecenter Rehermann A/S
Langebjerg 13, 4000, Roskilde
https://rehermann.net
Tjellesen Max Jenne A/S
Ole Lippmanns Vej 2, 2630, Taastrup
https://tmjwebshop.dk
VIN MED MERE.DK ApS
Sverigesvej 3, 6600, Vejen
https://vinmedmere.dk
Web Nordic A/S
H.C. Andersens Boulevard 11, 1553, København V
https://mecindo.dk
Web-shop 28000 (Matas)
Rørmosevej 2, 3450, Allerød
https://matas.dk
WELLVITA ApS
Energivej 4, 6700, Esbjerg
https://wellvita.dk
81