Operation targets illegal medicines
Global medicine operation just completed. Operation Pangea resulted in 393 arrests and the suspension of more than 4,900 websites.
Illegal sale of medicines is a global problem and often takes place across borders. Consequently, the Danish Medicines Agency, the Danish customs and tax authorities and the Danish Police participated in the recent global Operation Pangea IX, which cracked down hard on illicit websites around the world.
Worldwide, the operation resulted in 393 arrests, inspection of 339,919 packages and seizure of over 12,229,005 units containing potentially life-threatening medicines worth an estimated USD 53,262,732. More than 4,900 websites were taken offline or had their payment facilities removed.
"In Denmark, the Danish tax authorities primarily stop illegally imported potency-enhancing medicine and sleeping medicine. But more risky products are also being traded and imported. As a consumer, you have no assurance of the contents of the illegal medicine, and it may represent a hazard to your health. We recommend that you only buy medicines from authorised distributors," says Stine Gregers Hørsøe, lawyer at the Danish Medicines Agency.
Danish focus
In Denmark, the recent operation focused on parcels containing medicines from third countries and analyses of products suspected to contain undeclared active substances. A total of 1,111 parcels were inspected, and 64,487 units containing medicines were seized for further examination.
Moreover, a number of websites were reported to the State Prosecutor for Serious Economic and International Crime and INTERPOL for suspected illegal sale of medicines. In addition to the health-related risks, consumers are advised to watch out for identity theft, credit card fraud and computer viruses if they buy medicines at online shops that are not authorised to sell medicine.
At the State Prosecutor for Serious Economic and International Crime there is great focus on investigation and suspension of suspicious websites that persuade Danish consumers to buy fake products, such as illegal medicines. "In 2016 alone, the Copenhagen City Court has ordered the seizure of more than 500 .dk websites selling shoes, clothing and medicines," says Dorte Frandsen, Senior Prosecutor at the State Prosecutor for Serious Economic and International Crime.
Consumers should be careful when they buy medicines online
The safest way to buy medicines online is at one of the Danish online pharmacies or one of the online shops authorised by the Danish Medicines Agency to sell medicines. If you are unsure about whether an online shop sells medicines legally, you can check the Danish Medicines Agency's list of retailers authorised to sell medicines online.
About Operation PANGEA IX
Operation PANGEA IX, the largest-ever Internet-based operation, took place from 30 May to 7 June 2016 with the participation of drug regulatory authorities, police and customs authorities. A total of 193 agencies from 103 countries took part in the operation, supported by electronic payment companies (VISA and MasterCard), internet providers (Microsoft) and transportation industries.
The operation was coordinated by INTERPOL, the World Customs Organization (WCO), the Permanent Forum of International Pharmaceutical Crime (PFIPC), the Heads of Medicines Agencies Working Group of Enforcement Officers (HMA WGEO), the pharmaceutical industry as well as electronic payment system providers.
Link
INTERPOL's press release: Online sale of fake medicines and products targeted in INTERPOL operation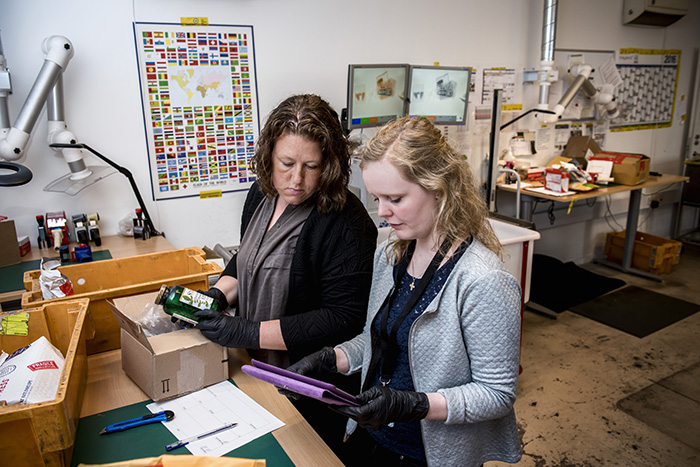 Download in high resolution (JPG format)
Photographer: Jesper Ludvigsen
Stine Gregers Hørsøe, lawyer, and Sine Thagaard Johansen, pharmacist student and assistant at the Danish Medicines Agency, regularly inspect packages containing medicines at the Danish tax authorities in Copenhagen airport. Illegally imported medicines are stopped, and the citizen who imported the medicine will be contacted.
Did you get answers to your questions?
Please tell us how we can improve our website? Please note that we do not answer questions asked via this feature.