Global operation against illegal medicines
A global operation against illegal medicines has been completed. 123 countries participated, and the operation resulted in 354 arrests or further investigations and the suspension of more than 3,500 websites.
Illegal sale of medicines is an increasing problem that may pose a global threat to public health. Sales often take place over the internet and across geographical borders. Consequently, the Danish Medicines Agency, the Danish Veterinary and Food Administration, the Danish Customs and Tax Administration (SKAT) and the Danish Police along with similar authorities in many other countries just completed the global Operation Pangea, which cracked down hard on illegal websites around the world.
Large number of arrests and suspensions worldwide
Worldwide, the operation resulted in 354 arrests and further investigations of individuals, inspection of 715,487 parcels and seizure of over 25,011,030 units containing potentially life-threatening medicines worth an estimated USD 51,216,844. More than 3,500 websites were taken offline or had their payment facilities removed.
"In Denmark, we looked at foreign websites directed at Danish consumers that may be very hard to distinguish from the websites of authorised retailers. Naturally, it is unacceptable to lure consumers, who may be in good faith, to buy illegal and potentially unhealthy medicines, and we take it very seriously. We have reported 14 websites to Interpol and are also examining what we can do to close down the websites," says Stine Gregers Hørsøe, legal adviser at the Danish Medicines Agency.
Focus on parcels containing medicines
In addition to the efforts to close down illegal websites, the recent operation also focused on parcels containing medicines stopped by SKAT. A total of 1,134 parcels were inspected, and 731 parcels containing medicines were seized for further examination.
"Medicines you can buy online can be harmful and illegal. Consequently, private individuals who are buying medicines is a focus area at SKAT throughout the year," says Preben Buchholtz, Director General at SKAT, and he adds: "In 2016, we confiscated more than 500,000 pills and more than 500 kg of medicine not in pill form. When we find parcels that seem to contain illegal medicine, we hand over the parcels to the Danish Medicines Agency."
During the operation last week, the Danish Medicines Agency confiscated potency-enhancing and weight-loss products as well as Melanotan, an illegal medicine used to get tanned skin, Tramadol, a prescription-only painkiller, Melatonin, a prescription-only sleeping medicine, and various kinds of antibiotics. Moreover, flea products and anthelmintics for dogs and cats were found.
"We are collaborating with SKAT and are confiscating illegal medicines every week; especially weight-loss products and potency-enhancing products containing sildenafil and tadalafil. Unfortunately, we also find other high-risk products and products containing other substances than those indicated on the package, which may constitute a health risk. As a consumer, you cannot know for sure what illegal medicines actually contain. You cannot trust the information on the label and in the declaration of illegal products," says Stine Gregers Hørsøe.
Do not buy illegal medicines
"The Danish Medicines Agency encourages Danish consumers not to buy any illegal medicines. In addition to the health risk, consumers may be exposed to identity theft, credit card fraud and computer viruses if they buy medicines from online shops that are not authorised to sell medicines. But more importantly, they expose themselves to an unnecessary health risk that can easily be avoided if they consult their doctor and buy medicines from authorised retailers," says Stine Gregers Hørsøe.
Buy medicines safely
---
It is legal to buy authorised medicines online from other EU countries and EEA countries. But make sure that you buy medicine from an online shop authorised to sell medicines by the relevant country's drug regulatory authority.
If you are unsure about whether an online shop sells medicines legally, you should look for the green EU logo, which links to the relevant country's list of authorised retailers.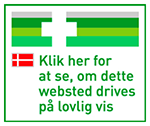 See the Danish Medicines Agency's list of authorised Danish retailers and our advice on buying medicines online

About Operation Pangea
---
Operation Pangea is the largest-ever Internet-based operation of its kind in the world. The operation takes place at regular intervals; this year from 12 September to 19 September 2017. Drug regulatory authorities, the police and tax and customs authorities from all over the world participate in the operation. Authorities from a total of 123 countries took part in the operation, supported by electronic payment companies (VISA and MasterCard), internet providers (Microsoft) and delivery services.
The operation was coordinated by INTERPOL, the World Customs Organization (WCO), the Permanent Forum of International Pharmaceutical Crime (PFIPC), the Heads of Medicines Agencies Working Group of Enforcement Officers (HMA WGEO), the pharmaceutical industry as well as electronic payment system providers.