Illegal potency-enhancing drug in Denmark: Viamax Pure Power
The Danish National Board of Health has received information about the dangerous potency-enhancing product Viamax Pure Power, which is sold by Danish online shops.
Viamax Pure Power is not an authorised medicinal product, and we therefore warn consumers not to use the product.
We advise consumers who have taken Viamax Pure Power to stop using it and to contact their doctor if they have any concerns. The illegal medicinal product may be handed over to a pharmacy for destruction.
The German health authorities have analysed Viamax Pure Power capsules and have established that the product contains the active drug dithiodesmethylcarbodenafil that has a similar effect in the body as the potency-enhancing active substance sildenafil, which is contained in, for example, the authorised prescription-only medicine Viagra.
The active ingredient is not declared on the product, and consumers have no way of finding out that they are in fact buying and using a potentially dangerous drug.
On the contrary, Viamax Pure Power is typically marketed as containing only natural herbs and extracts.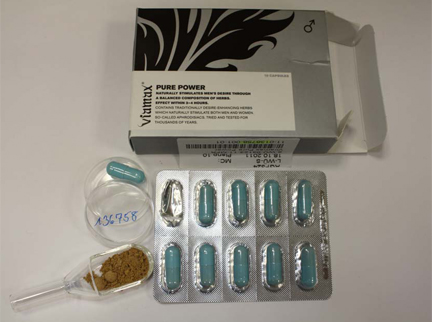 Did you get answers to your questions?
Please tell us how we can improve our website? Please note that we do not answer questions asked via this feature.