Buying medicines online
If you buy medicines online, you need to be particularly careful and check if the online store concerned has permission to sell medicine. It will reduce the risk of buying medicines that could harm your health.
Look for the green EU logo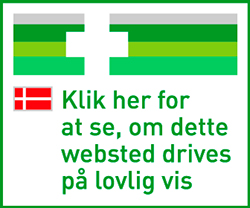 English logo text: Click to verify if this website is operating legally
Always look for the green EU logo if you buy medicines online. The green EU logo certifies that the online retailer has been authorised by a drug regulatory authority. It is a logo that must appear on all online retailers in the EU with permission to sell medicines. If the logo is missing, you can be almost certain that the online shop is selling medicines illegally or is located outside the EU. And if this is the case, it is illegal to import the medicine to Denmark.
The logo must link to either the Danish Medicines Agency's or another EU drug regulatory authority's list of pharmacies or authorised retailers selling medicines online (online retailers)
Click on these links to see the list of pharmacies selling medicines online and the list of other authorised retailers selling medicines online.
You can do more than look for the green EU logo. Here are five questions that can help you when you shop online:
Is the offer too good to be true?
Be cautious when you shop online. Watch out if the webshop sells medicine at unrealistically low prices, the language appears to be machine translated or if the prices are odd, e.g. DKK 517,97.
Where is the online shop based?
Check who is behind the online shop. Online shops in the EU are required to give a name, address, email and possibly a telephone number. A website ending on .dk could be located outside the EU, and getting help could turn out to be quite difficult if something goes wrong.
Which country is the product dispatched from?
You should check which country the product is dispatched from. Even though the online shop is placed in the EU, the products might be dispatched from a country outside the EU. It is illegal to have medicine sent to you by post from countries outside the EU/EEA. You should therefore read the terms of delivery.
Can you pay by card?
It is safest to pay with a credit card, where you enter the card number, expiry date and card verification code. In credit card payments, the bank will in many cases be able to reverse your payment for instance if your order never arrives or if too much money is withdrawn from your account. Shopping online with 2-step verification, e.g. text message (SMS), is an extra security.
Read the small print!
Questionnaires, sample packages and online competitions could conceal deceptive and fraudulent practices. Always read the small print before you enter a competition or accept a good offer.
Report illegal online trading
If you suspect that an online shop or other retailer is selling medicine illegally, we really want to know. You can report your suspicion to the Danish Medicines Agency on this form. You can report incidents anonymously.