Authorised retailers selling veterinary medicines online
Any website in the EU/EEA authorised to sell medicines online to the general public must display a certain logo. This applies to both pharmacies and authorised retailers. Pharmacies and retailers selling veterinary medicines online must display the blue logo below on their websites.
There are two logos; a green logo and a blue logo. The blue logo shown below is used for websites selling veterinary medicines. The green logo is used for websites selling veterinary medicines. Read more about the green logo
The purpose of the logo is to indicate to consumers that the website they are visiting is a legally-operating online medicine retailer. The logo is to prevent falsified medicines from entering the legal supply chain.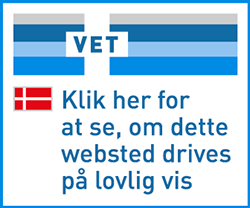 Above: The blue online logo to indicate if websites may legally sell veterinary medicines
Read more about the logo on the Danish Medicines Agencys website
Read more about the logo on the European Medicines Agencys (EMA) website
It is easy to check if you can trust a website:
When buying from a website that sells veterinary medicines online, look for the blue logo.
When you click on the logo, check if it takes you to a page that shows you the Danish Medicines Agency's list of legally operating pharmacies or retailers.
Check that the online pharmacy or retailer you have visited is listed there with a website address. Pharmacies/retailers on these lists have duly notified the Danish Medicines Agency that they sell medicines online. Pharmacies hold a licence and retailers hold an authorisation issued by the Danish Medicines Agency, giving them a right to sell medicines to consumers.
If the pharmacy/retailer is registered on the relevant list, you can continue with your purchase from that website. Don't buy veterinary medicines from websites without the blue logo.
The following shops are authorised to sell veterinary medicines and have informed us that they sell medicines online:
Virksomhedsnavn
Adresselinje 1
Hjemmeside
3S A/S
Karetmagervej 9, 7000, Fredericia
https://3S.dk
Alt Til Hund Og Kat
Marsvej 9, 4500, Nykøbing Sjælland
https://alttilhundogkat.dk
AniCura Dyrenesbutik.dk
Marielundvej 46C, 2730, Herlev
https://dyrenesbutik.dk
Animondo A/S
Bæksgårdvej 3, 7323, Give
http://animondo.dk
Bonnie Dyrecenter
Farum Bytorv 45, 3520, Farum
https://bonniedyrecenterfarum.dk
Bonnie Dyrecenter Nyborg
Falstervej 10G, 5800, Nyborg
https://hegnsgaard-h-m.dk
Bonnie Dyrecenter Søborg Aps
Søborg Hovedgade 146-148, 2860, Søborg
https://petshopdanmark.dk
Brdr. Ewers A/S
Ellegårdvej 19, 6400, Sønderborg
ewerslandbutik.dk
Canem IVS
Moltkesvej 10, 4690, Haslev
https://canem.dk
CBM Trading ApS
Skovbakkevej 4, 8220, Brabrand
https://cotonshoppen.dk
CuraPet dyrehospital ApS
Øverødvej 255, 2840, Holte
https://Curapet.dk
Dalum Dyrehandel
Dalumvej 40 B, 5250, Odense SV
https://Dalumdyrehandel.dk
Danish Agro Shoppen A/S
Køgevej 55, 4653, Karise
https://danishagroshoppen.dk
Dansk Websalg ApS
Stationsvej 7, 4230, Skælskør
https://anthons.dk
megapetshop.dk
DLG service A/S
Ballesvej 2, 7000, Fredericia
https://landogfritid.dk
Dyrelageret.dk ApS (DALSAGER HOLDING ApS)
Nejstdalen 3, 9850, Hirtshals
https://dyrelageret.dk
Dyrenes no. 1 / Pet's no. 1
Stejlhøj 26, 4400, Kalundborg
https://dyrenesno1.dk
ENTERTAINMENT TRADING A/S
Loftbrovej 28-30, 9400, Nørresundby
https://coolshop.com
FIRTAL WEB - engros tilladelse
Møgelhøj 8, 8520, Lystrup
http://www.helsebixen.dk
www.made4men.dk
www.jala-helsekost.dk
www.billigvoks.dk
www.signatura.dk
www.well.dk
Food2pets-Vokshuset ApS
Vagtelvænget 7, 5610, Assens
https://vokshuset.dk
Gærum Dyreklinik ApS
Brønderslevvej 121, 9900, Frederikshavn
https://gaerum-dyreklinik.dk
Grovvarecentret Silkeborg
Stagehøjvej 14, 8600, Silkeborg
https://grovvarecentret.dk
Hatting A/S
Oensvej 48, 8700, Horsens
https://hattingagro.dk
Højlund Mølle ApS
Ørbækvej 268A, 5892, Gudbjerg Sydfyn
https://www.hojlund.dk
Hundeshoppen ApS (SPECIAL ASSIGNMENTS APS)
Snogegårdsvej 15, 2820, Gentofte
https://hundeshoppen.dk
Jekas ApS
Vestergade 30, 9460, Brovst
https://jekashundogkat.dk
Jørgen Kruuse A/S
Havretoften 4, 5550, Langeskov
https://kruuse.com
Krogsgaard Hestefoder
Nejsvej 30C, 6310, Broager
https://Krogsgaardhestefoder.dk
Krop og Medicin
Folmer Bendtsens Plads 4, st. th, 2200, København N
https://kropogmedicin.dk
Linds A/S
Blüchersvej 3, 7480, Vildbjerg
https://Linds.dk
Loppetjansen.dk
Strandvejen 10, 5800, Nyborg
https://Loppetjansen.dk
Lystrup Dyrecenter
Møgelgårdsvej 19, 8520, Lystrup
https://www.dyrecenter.dk
Maxi Zoo Danmark A/S
Industriparken 21 A, 3 sal, 2750, Ballerup
https://maxizoo.dk
med24.dk - Blue Medico ApS
Løkkenholmsvej 6, 9480, Løkken
https://med24.dk
Miljøfoder A/S
Rømersvej 3, 7430, Ikast
https://miljoefoder.dk
Minizoo WWW ApS
Tårnby Torv 7, 2770, Kastrup
https://minizoo.dk
MyPets.dk
Slagelse Landevej 116, 4241, Vemmelev
https://mypets.dk
MyVetShop ApS
Husoddebakken 42, 8700, Horsens
http://myvetshop.dk
Netdyrlæge.dk
Ringager 17A, 2605, Brøndby
https://netdyrlaege.dk
Nomeco A/S
Borgmester Christiansens Gade 40, 1790, København V
https://nomecospersonaleshop.dk
Nomeco A/S
Herluf Trolles Vej 142, 5220, København V
https://nomecospersonaleshop.dk
Nomeco A/S
True Møllevej 2, 8381, København V
https://nomecospersonaleshop.dk
Nordsjællands Andels Grovvarefor
VESTERGADE 14, 3200, Helsinge
https://www.nag.dk
Nordvest Foder A/S
Tygstrupvej 3 A, 7770, Vestervig
https://nordvestfoder.dk
Olivers Petfood A/S
Herstedøstervej 9, 2600, Glostrup
http://olivers.dk
Ornestation Mors
Gammel MØLLEVEJ 97, 7970, Redsted Mors
https://ornestationmors.dk
Petpower.dk ApS
Skånevej 4, 6230, Rødekro
https://petpower.dk
P. Lindberg A/S
Søndre Ringvej 1, 6600, Vejen
https://p-lindberg.dk
PrimePet ApS
Michael Drewsens Vej 18, 8270, Højbjerg
http://www.primepet.dk
Rolfsminde Foder IVS
Ørbækvej 832, Rolfsted, 5863, Ferritslev Fyn
https://Rolfsmindefoder.dk
Secas
Sdr. Ringvej 1, 9850, Hirtshals
https://www.hirtshals-hundepension.dk
Tjellesen Max Jenne A/S
Ole Lippmanns Vej 2, 2630, Taastrup
https://tmjwebshop.dk
Vedsted Mølle
Tøndervej 31, 6500, Vojens
https://vedsted-molle.dk
VetFamily A/S
Oddervej 70, 8270, Højbjerg
https://butik.netdyredoktor.dk
VIKINGDANMARK
Agro Food Park 12, 8200, Århus N
https://vikshop.dk
Vilofarm A/S
Søagervej 9, Sdr. Onsild, 9500, Hobro
https://vf-engros.vilofarm.dk
Vuffeli
Kattesundet 4, 1458, København K
https://www.vuffeli.dk
Web Nordic A/S
H.C. Andersens Boulevard 11, 1553, København V
https://mecindo.dk
Web-shop 28000 (Matas)
Rørmosevej 2, 3450, Allerød
https://matas.dk
57
Did you get answers to your questions?
Please tell us how we can improve our website? Please note that we do not answer questions asked via this feature.